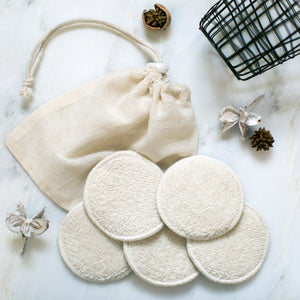 Looking to do your bit to help the planet? Our reusable cleansing pads are an excellent place to start.
These washable cleansing pads are the environmentally friendly alternative to cotton wool. Simply use with cleanser in place of cotton wool pads or wipes to remove make up. Place pads in the wash bag, wash in the machine and hey presto, they're ready to use again and again! The wash bag also makes a handy, exfoliating soap bag. 
5 cotton pads and string wash bag.
FREE DELIVERY ON UK ORDERS OVER £25.